Iran's Supreme Leader Ayatollah Ali Khamenei called it a "crushing response." Yet the targeted missile strikes on U.S. bases in Iraq may offer President Donald Trump a path to avoiding a wider war with unpredictable and devastating consequences.
There were no American casualties resulting from the overnight attack, according to a U.S. official, and Iraq said that no coalition forces on its territory were killed. What's more, Iran gave prior notice of the strikes, Iraqi Prime Minister Adel Abdul Mahdi's office said in a statement.
That fact suggests the Islamic Republic's dramatic retaliation was carefully calibrated to satisfy the outrage at home and provide an off-ramp to the crisis following the U.S. killing of General Qassem Soleimani last week.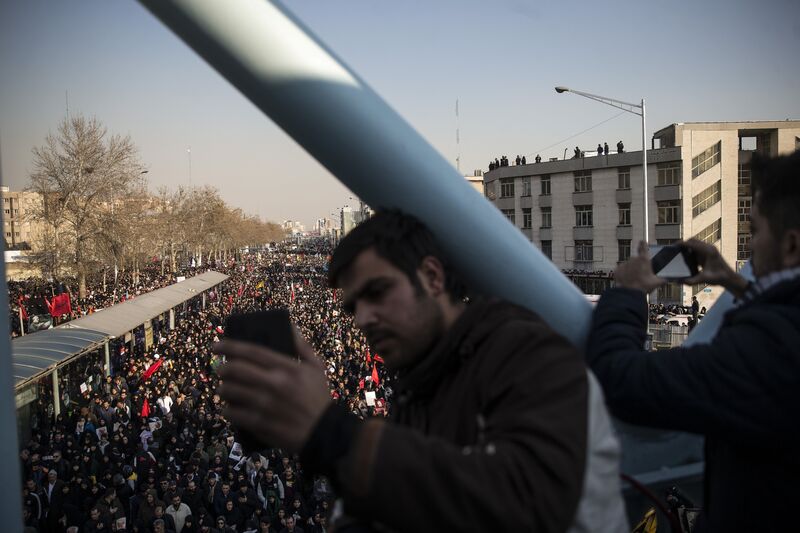 The strikes are "very much a measured response," said Faysal Itani, a deputy director at the Center for Global Policy in Washington who has lived and worked in the Middle East. "Its response has to be dramatic enough to save face, but limited enough so as to avoid triggering an escalation cycle that could lead to overwhelming U.S. military action. This is spectacular enough to 'count' but does not force the U.S. to escalate in return."
Markets settled on Wednesday, with gold, oil and Treasuries paring earlier surges, after both Tehran and Trump left the door open for lowering tensions. Foreign minister Javad Zarif said Iran had "concluded proportionate measures" and didn't seek war, while Trump tweeted "All is well!"
To be sure, unpredictability is a Trump hallmark and there is no guarantee he won't change his tone. The president said he'll make a statement on Wednesday morning in Washington. Trump has repeatedly warned Iran, and cited the U.S.'s military strength in a tweet after the missile attack, yet he also said last week that Soleimani's killing was meant "to stop a war."
"Hopefully the cycle, at least for the time being, ends here," Cyrus Razzaghi, president of Ara Enterprise, a Tehran-based management consultancy providing advice to foreign companies, said in a note. On Iran's side, he said, "I don't think there will be any more immediate attacks and even if there are, they will be done in the same manner, sending a message but not causing death."

https://www.bloomberg.com/news/articles/2020-01-08/iran-s-retaliation-offers-room-for-trump-to-calm-tensions